The Secret to Business Growth: How to Use the Inbound Services Framework
The business world has changed. Today's market enables customers to greatly influence products and services, in turn impacting how a company works—and rightfully so.
There is no better way to promote a business than through a happy customer. That is why it's time to shift gears and apply a more customer-centered approach to growing your business.
The Approach
As consumer behaviors evolve, it's clear that modern customers are now more demanding than ever. This is why you need to engage your customers with what is relevant to them, guide them to good outcomes, and grow together.
To do this, you'll need a scalable system to deliver exceptional customer experiences—one which can delight the modern customer and earn you promoters. We recommend the Inbound Service Framework.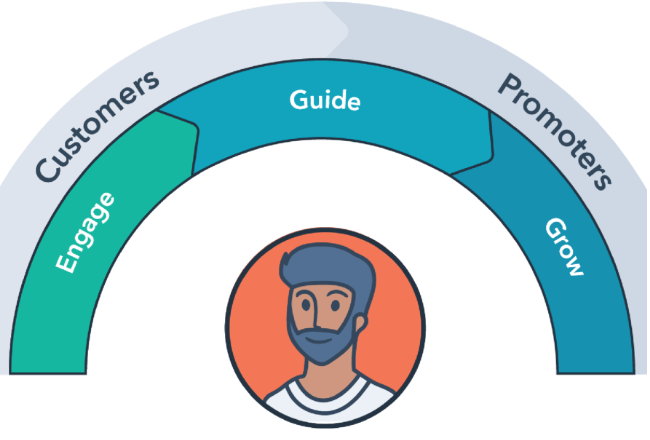 Customers today are less patient, more skeptical, and have higher expectations. Keeping them happy is a real challenge. However, we've found that in a world where customers have more control, happy customers are the new secret to growth.
How to Get Promoters
Take each of your customers through the simple process of Engage, Guide, and Grow.
Engage - People are looking for more conversational experiences, both in their lives and with the businesses they work with. Match the way consumers communicate, whether that's social, email, or in person. Once you do this, you'll have conversations that go deeper and help you learn more about your customers, and that insight provides valuable data to use to attract more customers.
Guide - When you're having great conversations and soliciting customer feedback, you're going to learn a lot. Use that information to shape how you help customers, where you deploy your resources, and build best practices. These proactive solutions will guide your customers toward success.
Grow - Once you've completed the first two steps and you start to have successful customers, it's time to ask them to tell your story. Use customer feedback to identify your top promoters. Get them involved in customer marketing activities. This could mean a case study program or even a workflow that triggers when someone has a high Net Promoter Score (NPS) and then asks them to fill out a review. Use those reviews everywhere you can.
The secret to growth today is to move from the traditional growth funnel toward a flywheel. This puts your customers at the center of your business. It's our goal to help you grow better, and using tools like HubSpot's Service Hub is the next big step.
The Service Hub
HubSpot has been cooking up something awesome over the past couple of years, and it's now ready to give businesses a treat: a service hub that can provide a growth spurt to those willing to try.
The new product offers several new tools within one hub, including:
Conversations - A universal inbox that helps all teams collaborate on customer support at scale.
Tickets - A way to track, order, collaborate, and deliver on customers' needs and expectations.
Knowledge Base - Where tickets turn into simple, well-structured articles on your site that can index on Google.
Customer Feedback - A tool built to help you better understand your customers.
Reporting - A dashboard to help you analyze data received from tickets, knowledge bases, and customer feedback.
With the framework and tools ready, you can be an unstoppable force in this new world where "customer is king." If you want to stand at the top, it's time you pay closer attention to the people who really run your business: the people you serve—your customers.
Interested in how the Inbound Service Framework and HubSpot's Service Hub can help you bring exponential business growth?